Click here for a full guide of theming and graphical requirements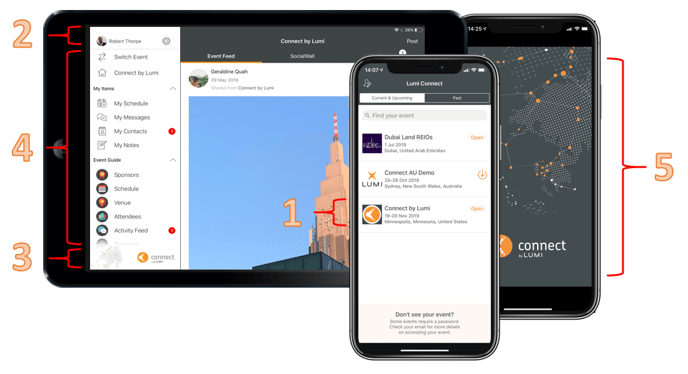 1. Required Event Icons


| | | |
| --- | --- | --- |
| Event Icon | 100px x 100px | |
| Online Event Directory Icon | 200px x 100px | |

2. Additional Graphics


| | | |
| --- | --- | --- |
| Logo's and Headshot | 300px x 300px | |

3. Event Banners


Mobile Banner
640 x 150 pixels
Tablet/Online Banner
552 x 150 pixels
Email Banner
1060 x 212 pixels

4. Launch Icons

Module Icons
216 x 216 pixels
Create a 176 x 176 pixel icon, then just add 40 transparent pixels of padding around the image. This ensures your icon is centered and matches the style. Your completed icon should be a PNG file and 216 x 216 pixels.

5. Event Splash Screens

Mobile
1242 x 2208 pixels
Tablet (Portrait)
1536 x 2048 pixels*
Tablet (Landscape)
2048 x 1536 pixels*
*Keep important elements within the safety margins to ensure that branding, sponsor logos, and other important elements don't get cut off during device rotation.
Left: 290 pixels
Right: 290 pixels

Reviewed and Approved by Product Team