We can provide emails for every eventuality, be it invitations, reminders, confirmations and post-event follow up emails.

Event Planners can create emails in different formats, plain text, html or using the inbuilt editor. If you have a design team on hand we can also upload script for complete customisation.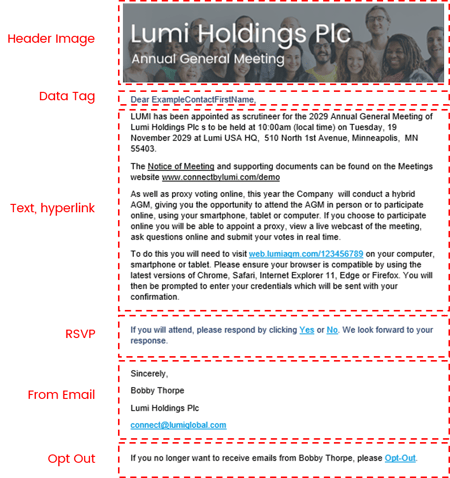 You can ensure that you are truly targeting and speaking to each audience by creating separate email campaigns based on the invitation list. All emails read in data tags, personalising the experiencing for the receiver and automating the process for the planner. You can use different widgets to drag and drop into the email, including texts, Register buttons, and images. Headers and footers can be globally applied or individually set for each email type.
Emails can be push immediately or scheduled depending on you desired choice. We recommend sending emails within the first hours of a working week day (Mon - Thurs) to ensure it gets optimal coverage and not lost over the weekend or at the end of a day. All emails must be in an invitation list before and email can be communicated.
If you wish emails to come from a particular address, follow Adding Account Email
Pre-Event

Invitation, Invitation Reminder and Wait list Notification

Within the invite email if a user clicks the Yes link then it will take them through to the registration website home page and, if applied, the information from the email (such as name, email etc) will pre-populate the relevant fields. If they click No then then are taken to decline form and asked to complete why they will not attend. The click count for both will be record in the dashboard.

Invitation reminders will be sent to users who have not responded. If a registration is abandoned we can automate a follow up email, if there is no response within 7 days the information is lost.

Wait list notification will be sent if you have applied capacity's to sessions but the allocation has been reached.

Post Registration

Approval Pending, App Download, Event Reminder

If a user completes registration and you do not have automatic approval set the user will still receive an email acknowledging the request.

For approved registrants a email containing links to the mobile app (if integrated) can be automated.

Event reminders can be sent to ensure that non-responses are prompted to select a status.

Declined Registration

Approval denied, Cancellation or Regret

Follow up emails for any eventuality allow the event planner to build a good picture of the reasoning for non-attendance.

Post- Event

Event Feedback and Guest Event Feedback

The best way to prepare for you next event is to learn what worked well and what, maybe, could be improved. Post event feedback provides the perfect platform to gain valuable insights into what you attendees thought of the event.

Email Process



Reviewed and Approved by Product Team