The login process makes it easy for your attendees to find and communicate with like-minded people, while maintaining the level of security.
Via Invite


Find your Invitation. Check your email for an invitation message from Connect by Lumi.


Download the App. Click Download the App to be taken to the App Store or Google Play Store depending on your device type. Click Get or Install to start downloading the app on your device.

Return to your Invitation. Once the app has finished installing, open your invitation email again.

Click Verify Account.


Confirm your Verification. Click Open App to complete the verification and unlock all the app features!
---


Via App


Open your event. Open the app, then enter the name of your event or the event password in the search bar. Tap the name of your event, then tap Download to open it.
Start the login. From the event home screen, tap the hamburger button in the top left to open the side nav menu. Tap Log in for more features.
Enter your details. Enter your first and last name, then tap Next. Enter the email address where you'd like your verification code sent, then tap Next once more time.

Open your email. Exit the app and open your verification email. You'll see it includes your four-digit verification code.
Enter the code. Return to the app and enter the verification code, then tap Verify to log in.
---


SMS Text Alert


For those planners who capture mobile numbers during registration, you have an additional option to send the 4-digit verification code via SMS text alert. International mobile numbers are supported, however, the text alert message currently only displays in English.
What about attendees who log in last minute? We have you covered! If a verification code expires, a new code is sent to your attendee once he or she begins the log in process.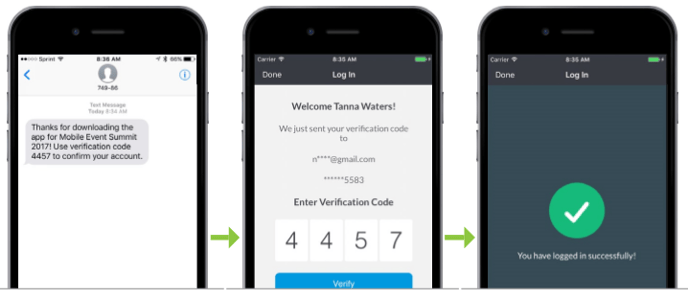 ---


Single-Sign On (SSO)

A premium offering, CrowdCompass SSO seamlessly allows your employees to log in to your app using your organization's credentials. When SSO is enabled, your employees are recognized by their name or email domain and automatically go through your organization's SAML 2.0 supported authentication process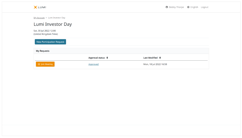 Reviewed and Approved by Product Team