Within the Map module you can set specific points (Pin points or hot spot triggers) for sessions or exhibitors on a venue map.

Attendee's can tap on markers to get a summary and tap on titles to get the full description pages for more info. They can also zoom in and out of maps and map markers are color coded to help attendees find what they're looking for.
You can upload as many maps as you wish but note each session and organisation can only be linked to one map, duplicate the data if you require have an organisation with 2 booths in seperate locations or same sessions in different rooms.




If you're hosting a virtual event, you can create a virtual lobby by uploading an image of a physical venue instead of a traditional floor plan map. Then map defined areas and associate sessions and organisations.
Note:
Any image used as a map should be a JPG, JPEG, or PNG, about 2000 x 2000 pixels, and no larger than 10 MB.
Avoid transparent backgrounds. They will appear black within the app.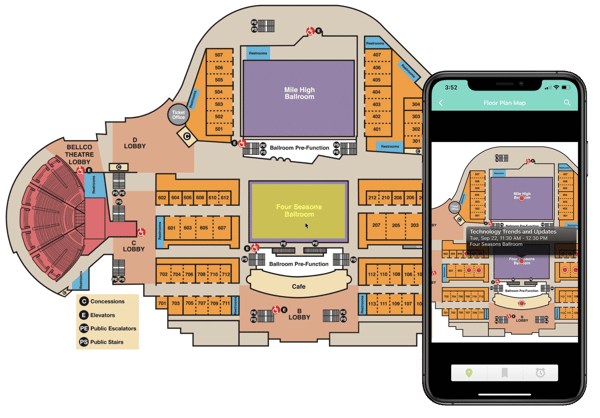 Reviewed and Approved by Product Team