For the fastest line possible, use the OnArrival app to scan attendees into your event. If you have OnArrival Premium, you can also scan attendees into sessions.

QR codes work best, but OnArrival also supports the following barcode formats:
Aztec Code 128
Code 39
Code 39 mod 43
Code 93
EAN-8
EAN-13/UPC-A
Interleaved 2 of 5
PDF 417
UPC-E
Attendees can only be scanned in if their confirmation number or source ID is in the barcode. If you are using source ID, it must be the only field encoded in the barcode.
Admin Console


Onsite check-in is the easiest way to register your guests attendance. Registration staff can either scan the QR code generated at the end of online registration or search the database manually for the attendee. From the admin view they can also view attendee details, check in attendees, print and re-print attendee badges.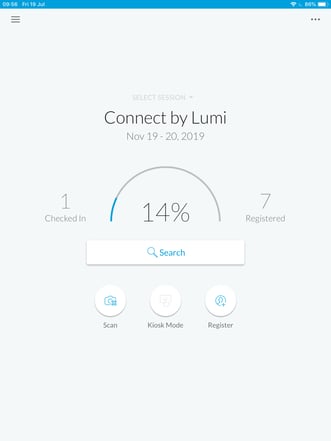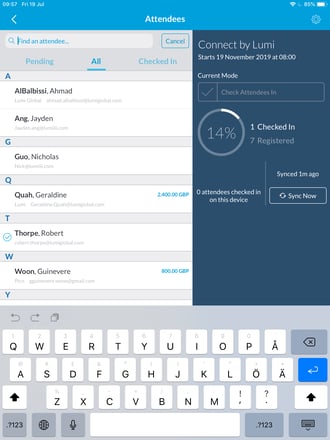 ---


Self Service Kiosk


There is also self service kiosk mode enabling the attendee to check themselves in. It is also not a problem if an attendee has not pre-registered, then they can sign up on the spot and take payment straight away if required.
You can allow personal information amendments and, if using the premium service, print name badges for you guest to wear at the event.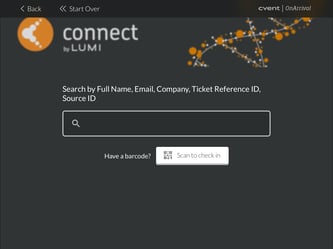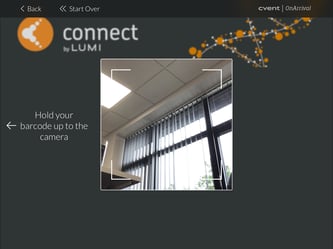 You can use the onsite solution offline but when connected, and if integrated, it will sync with registration every 15 mins.
Networking requirements include a minimum speed of 5MBpS for every 10 stations and a DHCP hard line to connect the router that will be provided onsite.
Staff can track checkins from the app or view reports from the portal. If you'll be registering walk-ins, collecting payments, or need your check-ins continuously synced, make sure you have internet connection.
---


Check-in process


| | | |
| --- | --- | --- |
| Scan | Search | Walk-in |
| Scan QR Code | Search name, email, company etc | Click Register |
| Capture photo (optional) | Tap Attendee | Enter Name |
| Capture Signature (optional) | Capture photo (optional) | Enter Email |
| Preview Badge (optional) | Capture Signature (optional) | Answer registration questions (optional) |
| Print Badge (optional) | Preview Badge (optional) | Capture photo (optional) |
| Check-in | Print Badge (optional) | Capture Signature (optional) |
| | Check-in | Preview Badge (optional) |
| | | Print Badge (optional) |
| | | Check-in |
---


Attendee Experience



Reviewed and Approved by Product Team