Pre-voting can include a mixture of standard resolutions and election style motions and can be open for any length of time.
Participants can access a meeting in exactly the same way they would do for a live meeting. Once authenticated, the information screen will contain instructions on how to proceed, note this information maybe updated before the live meeting, and further information may also be seen at the top of the pre-voting page.
When a Pre-Vote has been opened, it will be accessible via the 'Voting' tab within the navigation menu. Simply select your desired option from the choices listed and press submit.
Note:
A Pre-Vote will only be cast once a participant has hit the 'Submit' button at the bottom of the page. Any voting choices selected for each question are still cast in real-time and can be changed or cancelled at any time whilst the Pre-Vote remains open, but they must now always be submitted.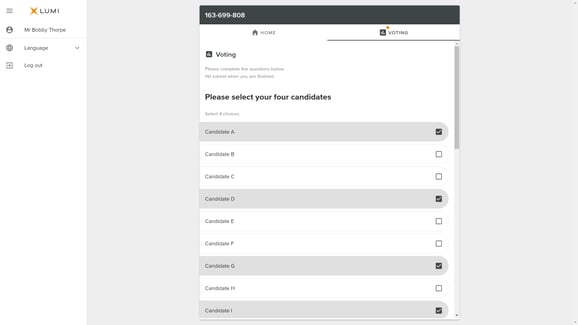 After scrolling to the bottom of the Pre-Voting page, a themeable coloured bar is present. This bar includes a gamification element, indicating the status on the number of questions that have received responses and importantly, the final 'Submit' button.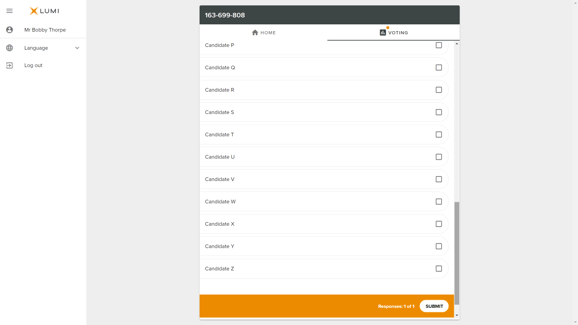 Once the 'Submit' button has been clicked/pressed, a participant will be navigated to a summary page which shows that voting is complete.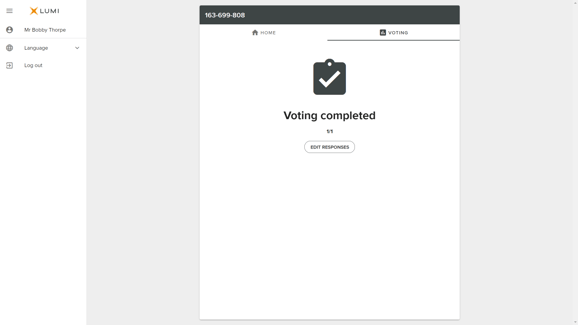 Within this page, it is also possible for a participant to return to the main Pre-Voting page by using the 'EDIT RESPONSES' button.
A discretionary option can be included if required by the company and you can allow shareholders the ability to appoint another shareholder, rather than the chair to represent them during the meeting.​ This is an open text box shareholders can type a name into.​ If they do not wish to appoint another shareholder then they can leave this option blank.
If Lumi AGM is to be used in the room during the AGM then any pre votes will be revoked and replaced; if a member who has already voted and then attends the meeting.​​
Watch this short video for more information...



Reviewed and Approved by Global Support 06/01/23