Which browsers are compatible with Lumi AGM Mobile?
Lumi AGM Mobile is available as HTML Client Only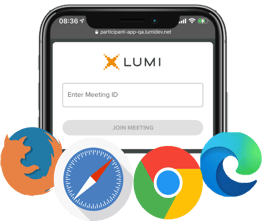 This latest version of Lumi AGM is available as an HTML client (i.e. a 'web app') for desktop, PC, mobile web and is compatible with the latest versions of:
Chrome
Firefox
Edge (Chromium)
Safari.
Please ensure all participants are also accessing the meeting from a device which has a manufacturer supported operating system installed.
Please be aware the Lumi AGM client app and Lumi AGM Mobile online Dashboard are not supported when using any versions of Internet Explorer (IE). Please ensure that any notice of meeting communications from this point onwards do not contain any details surrounding the support of Internet Explorer.

Reviewed and Approved by Product Team