What is the Meeting ID? I don't have it….
The meeting ID is the 9-digit number that you need to enter before authenicating your login.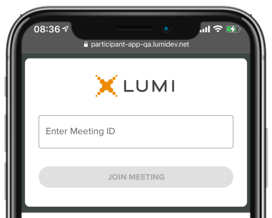 The Meeting ID is the unique, 9-digit number of the meeting e.g. 123-456-789. This number should be referenced in the meeting material which was distributed alongside your login credentials (username and password). Please contact your Transfer Agent or Registrar if you are having difficulty locating this information.
If you clicked a URL to enter the meeting, the meeting ID is the last 9 digits of that URL.
Click the Join Live Meeting button or go to web.lumiagm.com to enter the meeting ID.
Note:
Whilst Lumi live chat or support can assist with enquiries the quickest way to obtain live event support is by contacting the transfer agent or registrar. This information is typically found on the notice of meeting communication sent out to all Shareholders notifying them that the meeting was taking place.
Reviewed and Approved by Global Support 17/01/23