No meeting can be caused by a number of different issues but generally it caused due to ViewPoint not being able to communicate with the SQL databases.
.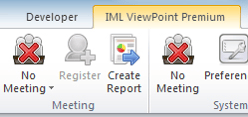 If you see No Meeting directly after installation and are unable to connect to localhost you need to uninstall and re-install with built-in Admin rights (full admin rights).
If it is the first time you have loaded ViewPoint you will need to first try creating new meeting by
Click on the No meeting button
then Create New type the meeting name
Select Next
If it can connect to the local host Computer it will generate the meeting.
If this hasn't removed the 'No Meeting' message ensure Services are Started and Automatic
Close down PowerPoint
Type Services into windows search menu
Right click on IML Click Hub service and click Restart
Follow the same steps for Lumi Services, Net.TCP Port Sharing and SQL Server
If the error persists double check the PC requirements for the version of ViewPoint.
If other buttons such as Preferences do not function properly this would signify a Corrupt user profile. Delete user.config from
C:\Users[YOUR NAME]\AppData\Local\Microsoft_Corporation\
If you are still seeing the issue un-install and re-install the software.
Important:
You must have a fully licenced Windows Operating System and Microsoft Office in order to use Lumi ViewPoint.
Other pre-requisites are also required along with Admin Rights.

Reviewed and Approved by Product Team